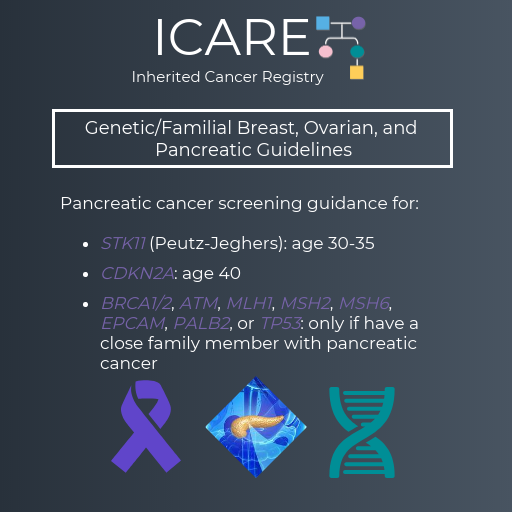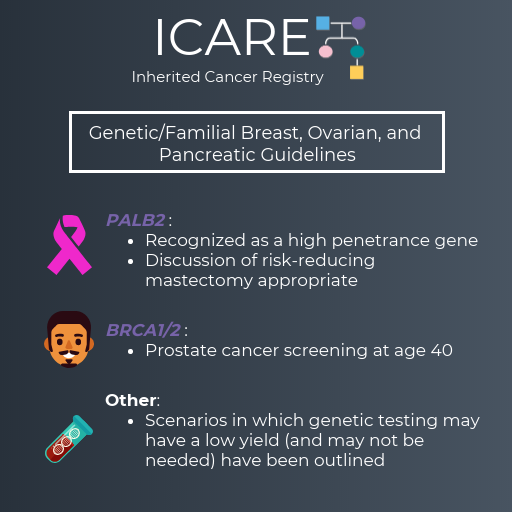 We are excited to share the latest version of the NCCN Genetic/Familial Breast, Ovarian and Pancreatic Guidelines (V1.2020), which were just updated. Some of the changes made include:
PALB2 was added as a high penetrance gene (similar to BRCA1, BRCA2, CDH1, PTEN and TP53)

It is appropriate to consider risk reducing mastectomy for cancer risk management (as well as high risk screening through mammograms and MRIs).

The age at which screening for prostate cancer among men with a BRCA2 mutation was lowered from 45 to 40.

Pancreatic cancer screening:

Individuals with STK11 (which leads to Peutz-Jeghers Syndrome) or CDKN2A mutations has been added
ONLY a consideration in patients with a mutation in BRCA1/2, ATM, MLH1, MSH2, EPCAM, PALB2, and TP53 IF there is a close family member (first or second degree relative on the same side of the family) with pancreatic cancer

The guidelines also outline situations in which there is a very low chance of finding a mutation (i.e., pathogenic/likely pathogenic variant).
To see the full version of the guidelines, go to nccn.org, where they will ask you to create a username and password (which anyone can do), after which you will be able to view whichever guidelines you want. Check it out at https://www.nccn.org/about/news/newsinfo.aspx?NewsID=1790!