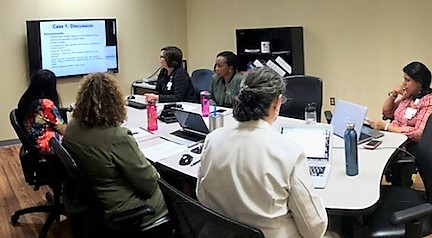 As part of our educational outreach efforts, ICARE hosts an hour-long monthly web-based genetics case conference. Providers from across the country involved in cancer risk assessment practices regularly attend and present cases for discussion.
Who can access the ICARE monthly case conferences?
Providers who actively recruit patients to ICARE
Providers who actively contribute to case conference by presenting cases
Please note: Exceptions may be made on a case-by-case basis for providers who are unable to recruit to ICARE due to institutional constraints, but actively participate in/contribute to case conferences
To give you an example of these web-based case conferences focused on issues related to inherited cancer predisposition, we have included links to the recordings of two previous conferences. To access these sessions, please click on the links below:
May 2017 – Case conference focused on CHEK2 heterozygotes.
June 2017 – Case conference focused on PALB2 cases with guest experts Drs. Marc Tischkowitz and Kelly Metcalfe.
---
Attendance at our case conferences has increased consistently since 2010, as shown below: