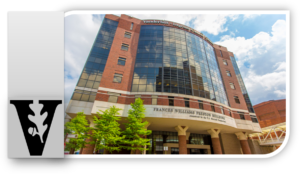 As part of our educational engagement efforts, ICARE hosts an hour-long monthly web-based Genetics Case Conference. Healthcare providers from across the world who recruit high-risk patients to ICARE regularly attend and present cases for discussion and feedback from experts in the field of cancer genetics.
To view all webinars and case conference videos, please click here to visit our YouTube channel.
Who can access ICARE case conferences?
Providers who actively recruit patients to ICARE
*Exceptions may be made on a case-by-case basis for providers who are unable to recruit to ICARE due to institutional constraints, but actively participate in/contribute to case conferences.
Would you like to present a case for multi-disciplinary expert feedback?
Submit your case information at the following link https://redcap.link/ICARECaseSubmission or alternatively, you may email the ICARE team at ICARE@vumc.org with a de-identified pedigree and details. You may download PowerPoint presentation templates below if you plan to prepare slides yourself for your case (optional):
Click here to submit a case to present at a future ICARE Genetics Case Conference
2023 ICARE Genetics Case Conference Schedule
Date & Time (CT)

Focus*

Thursday, January 12th


11:30am – 12:30pm

Does Reduced Penetrance Mean Reduced Patient Impact?
Insights Navigating My "Genetic Diagnosis"
Guest Presenter: Cristi Radford, MS, CGC
Thursday, February 9th


11:30am – 12:30pm

CanRisk
Guest Presenter: Antonis Antoniou, PhD
Thursday, March 9th


11:30am – 12:30pm

IMPULSS-A Service Delivery Model for Lynch Carriers
Guest Expert: Deborah Cragun, PhD, MS, CGC
Thursday, April 13th


11:30am – 12:30pm

Tumor Testing/Germline Significance
Guest Expert: Ben Park, MD, PhD
Thursday, May 11th


11:30am – 12:30pm

Benign Tumors Predisposition: DGCR8 and Other Related Syndromes
Guest Expert: Barb Rivera Polo, PhD
Thursday, June 8th


11:30am – 12:30pm

CHIP/Variant Interpretation in Li-Fraumeni Syndrome
Guest Expert: Bita Nehoray, MS, CGC
Thursday, July 13th


11:30am – 12:30pm

Presenter's Choice

Thursday, August 10th


11:30am – 12:30pm

Algorithm to Select Breast Cancer Treatment in BRCA Carriers
Guest Expert: Sheila Rajagopal, MD, MPH, MSc
Thursday, September 14th


11:30am – 12:30pm

TBD
Thursday, October 12th


11:30am – 12:30pm

Breast Cancer
In recognition of Breast Cancer Awareness Month
Thursday, November 9th


11:30am – 12:30pm

Pancreatic Cancer Screening
Guest Expert: Bryson Katona, MD, PhD
Thursday, December 14th


11:30am – 12:30pm

Prostate Cancer Screening Studies
Guest Expert: Ros Eeles, PhD, FRCP, FRCR, FMedSci
*Focus may change due to unforeseen circumstances. If there is a change in the focus, ICARE partners will be notified.