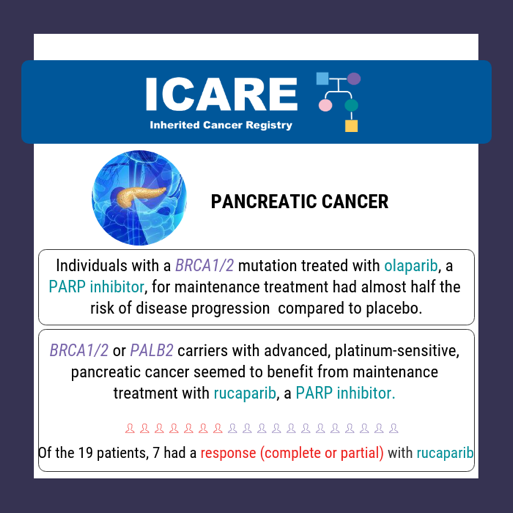 Results from a clinical trial of individuals with a BRCA1/2 mutation and pancreatic cancer showed that patients who received a PARP inhibitor (olaparib) for maintenance treatment had almost half the risk of their disease progressing when compared to receiving a placebo.1 In fact, after 2 years, 22.1% of patients who received olaparib had no disease progression compared to 9.6% of those receiving a placebo.1 In October 2018, Lynparza (olaparib) received orphan drug designation for pancreatic cancer through the U.S. Food and Drug Administration. Another study of a PARP inhibitor called rucaparib, presented at the 2019 AACR meeting, showed that BRCA1/2 or PALB2 carriers with advanced, platinum-sensitive, pancreatic cancer seemed to benefit from this maintenance treatment.2 In fact, of the 19 patients assessed so far, one had a complete response and six had a partial response to the treatment.2 These results remain preliminary and require more proof that they are true, but represent another possible treatment advance for those with pancreatic cancer and BRCA1/2 or PALB2 mutations. These results also highlight the importance for both germline (inherited) and tumor (somatic) testing among patients with pancreatic cancer.
1Golan, et al. N Engl J Med. 2019 July. PMID 31157963.
2Reiss Binder, et al. Abstract CT234. AACR Annual Meeting, presented 2019 April.