While higher risks for contralateral breast cancer (CBC) have been known for BRCA1 and BRCA2, a newly published study demonstrated that the risk of CBC is also higher for female PALB2 and CHEK2 carriers; however, no elevated risks were found for ATM carriers (Table 1).1 This information is important to study, as it may be used to guide cancer screening and risk reduction strategies.
Table 1: Contralateral Breast Cancer Risks by Gene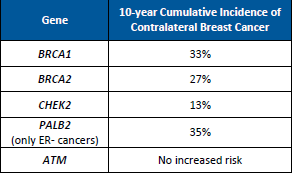 Risks of CBC may be further personalized in BRCA1 and BRCA2 carriers, with a recent study showing that risks were higher when the first breast cancer happened at a younger age, when there were close family members with breast and/or ovarian cancer, and when the mutation was located near the 3' region of the gene.2 In contrast, risks were lower with endocrine therapy.

1Yadav et al. J Clin Oncol. 2023;41(9):1703-1713. PMID: 36623243. Social media post February 1st, 2023. Available at: https://tinyurl.com/post212023.
2Sun et al. 2023;41(5):991-999. PMID: 36480783. Social media post January 14th, 2023. Available at: https://tinyurl.com/post1142023.