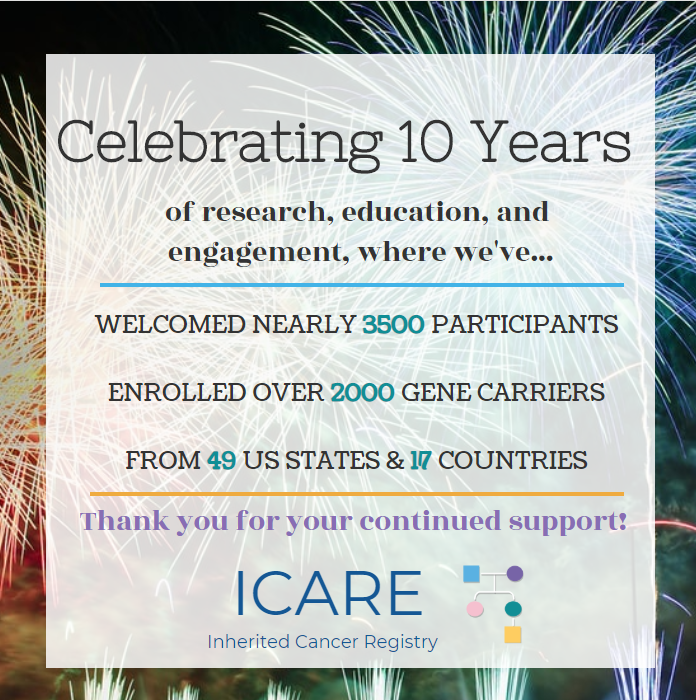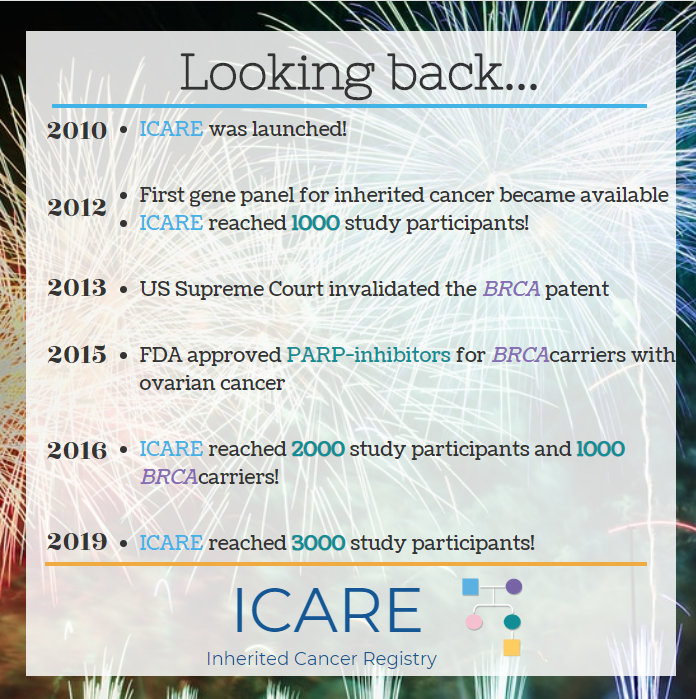 Happy New Year! 2020 represents a decade for ICARE
We are celebrating 10 years of research, education, and engagement, through which we have enrolled nearly 3500 participants, including over 2000 gene mutation carriers, disseminated 15 newsletters, led and collaborated on multiple research projects, and impacted individuals affected by inherited cancer predisposition all over the world.
Let's take a quick look at what's happened in the last decade:
2010 – ICARE was launched.
2012 – First commercially available gene panel test for inherited cancer became available, and ICARE reached 1000 study participants! Cost of testing just for BRCA1 and BRCA2 was over $4000.
2013 –The Supreme Court invalidated the BRCA patent which allowed expanded use of multi-gene panel testing as the BRCA genes could then be added to the panel tests.
2015 – FDA approved the use of PARP inhibitors for BRCA carriers with ovarian cancer which improved treatment options.
2016 – ICARE reached 1000 BRCA carriers and 2000 study participants!
2017 – The FDA approved immunotherapy treatment for mismatch repair-deficient cancers, which was an important advance for individuals with Lynch syndrome.
2019 – ICARE reached 3000 study participants!
2020 – Ongoing discovery of new cancer genes and improved technology continues to drive cost of genetic tests down to as low as $250 and lower!
Thank you for your continued support in helping us fulfill our mission to end the cycle of inherited cancer through research, education, and engagement!